Description
TECHNICAL SPECIFICATIONS:
Frame
Wheel Size
Fork

Rockshoks super deluxe shock absorber

Sizes

Headsets

1/2 1/5 tapered head tube

Gear Cables

Fully internal threads

Thru Axle

Brake Caliper

Radial caliper support 

250WT kit with 600 wt peak power

Battery

29″ 2.5 wheel clearance also convertible to 27.5″ x 3.0
MOTOR POLINI E-P3+
Polini Motori revolutionises the concept of assisted pedalling and presents the  Polini E-P3+ engine for e-bikes. An innovative, new generation engine, with the + (PLUS) sign to indicate the novelties and the important step forward achieved thanks to continuous analysis, careful study and commitment to design, always looking for the best performance.Light, powerful and compact, the Polini E-P3+ engine has one of the smallest lateral dimensions in the category and delivers a torque of 90 Nm in the MX model (specific for MTB) for customers more demanding.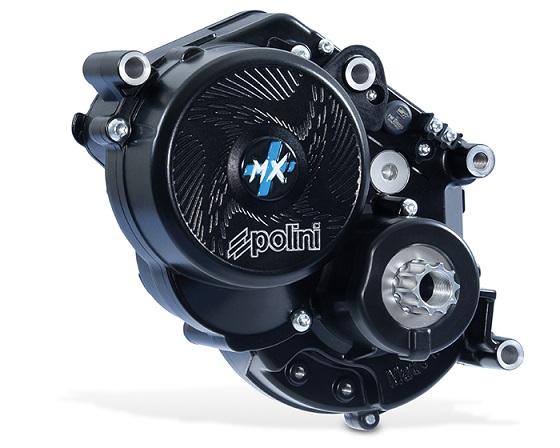 E-P3+ MX
| | |
| --- | --- |
| Power | 250 Watts (600 Watts peak) |
| Weight | 2,950 g. |
| Maximum torque | 90Nm |
| Assistance | 25km/h |
| Degree of protection | IP55 |
| pedaling frequency | max 120 |
AUTONOMY E-P3+ with Touring map
Assistance level  1  – assistance aid  30% : Autonomy 180/220 km
Assistance level  2  – assistance assistance  60% : Autonomy 150/180 km
Assistance level  3  – assistance help  120% : Autonomy 100/150km
Assistance level  4  – assistance help  250% : Autonomy 80/100km
Assistance level  5  – assistance assistance  400% : Autonomy 60/85 km
• Average pedaling frequency 60-80 rpm.
• Cyclist weight 60-80 kg
• Average speed range 20/25 km/h
• Road wheel bicycle
• Flat route
Its weight is only 2950 g and it has 5 mappings, 3 of which are pre-set and 2 fully configurable:
Touring: smooth and progressive, ideal for daily use and longer battery lifeDynamic: with a sporty character, but at the same time natural and precise
Race: Without compromises, a real racing map, to offer maximum performance (set up developed through the experience gained in the races of both the World Series Championship and the Italian FMI Championship)
Custom 1 / Custom 2: Fully user configurable via the smartphone app, which will be available from spring 2022. 
The electronics are totally innovative and use algorithms derived from Motosport. The  PDC "Polini Dynamic Control" software  was developed with 4 objectives:
 assistance torque delivery precision always according to the effort applied by the cyclist on the pedals;

 responsiveness in following pedaling variations;

 reduction of the response time by the motor when you start pedaling bringing to zero the thrust interruption time when you stop pedaling;

  increase active assistance up to 120 RPM.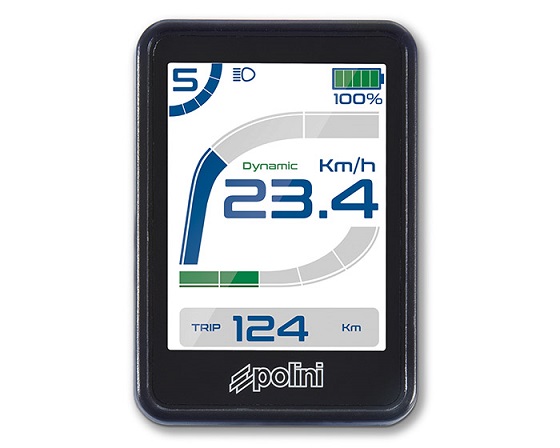 The Polini TFT display is easy to read thanks to a 2.5-inch adaptive light color screen, i.e. with automatic adaptation of color and intensity based on the ambient light. It also accurately displays the rider's pedaling power, cadence, motor power and residual range.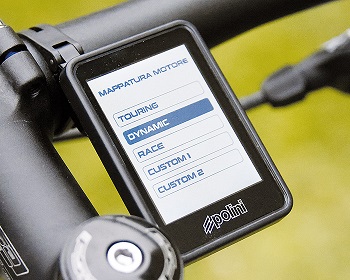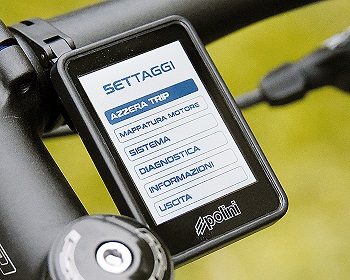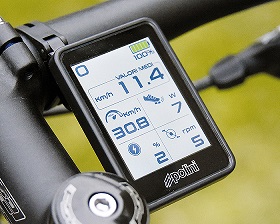 Polini Motori renews its attention to customer needs and its commitment to the world of e-bikes, and is preparing for a new sporting season with the  Polini E-P3+ engine.